Listen up here. There's a lot of 'Rules' and 'Regulations' concerning air travel. in the USA The Transportation Security Administration (TSA) is the 'Man' when it comes to what must be done.
Sadly, though you might be expecting Rules to be Rules and I suppose, Regs to be Regs, that is not quite the whole story.
Can I Fly with Wire Coat Hangers in My Carry-On Luggage?
The TSA says "Yes" to Coat hangers in Carry-On luggage (Source). It also states, "The final decision rests with the TSA officer on whether an item is allowed through the checkpoint." And then there are the Airline Rules and Regulations as well. So YES you can but do you want to take the risk?
The Red Flag Warning here is: "The final decision rests with the TSA officer on whether an item is allowed through the checkpoint."
A great idea here is to help them make the decision. A smile and a sincere hello can make the TSA checkpoint adventure more pleasant!
So the question then becomes: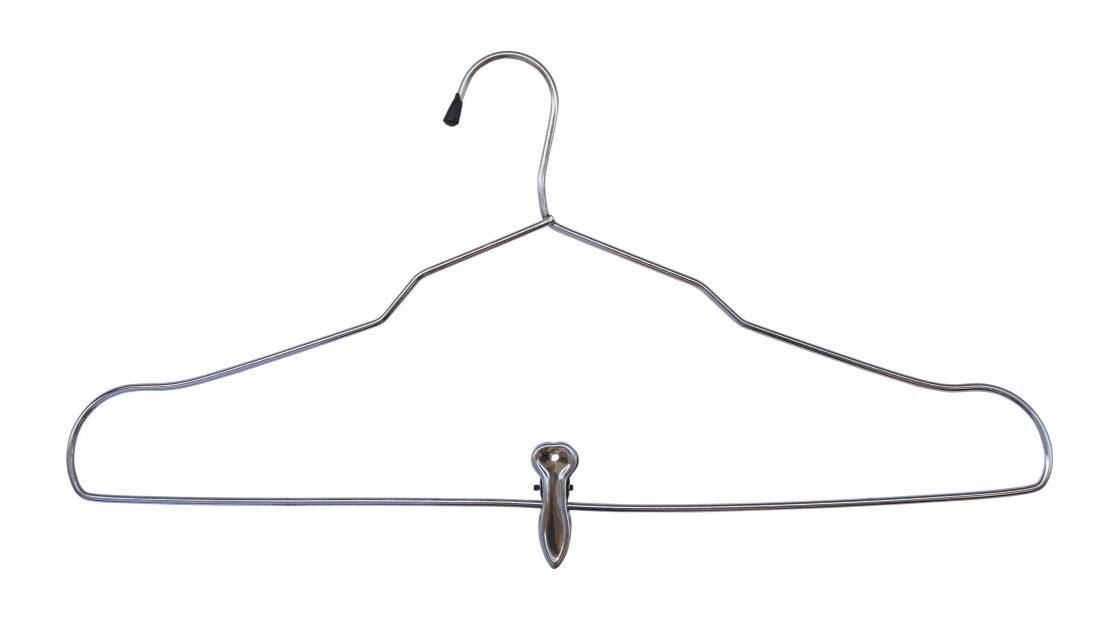 Should I Fly with Wire Coat Hangers in my Carry-On Luggage?
So even though the TSA is OK with coat hangers in Carry-On luggage, is it really a good idea?
Based on the Red Flag Warning I quoted above; in my opinion, if you pack hangers in your luggage that appear to be different, resemble a sharp object or not like normal hangers should loo, you might be heading into trouble.  It's quite likely the TSA operative will take a closer look and ponder whether to allow or prohibit the hangers in your luggage.
I did a bit of research on several forums and I found the opinions and views of others on this subject. As usual, there was no consensus so not awfully helpful.
Some say "No" to the wire hangers and favor the plastic ones; some say "Yes" to all hangers, some say absolutely "No" and others say "Yes" but only for specific types of hangers. The forums do mention the wire hangers several times as a possible sharp object and some offer recommendations and alternatives.
I filtered through the answers and as a regular air traveler, added a little of my own magic experiences to arrive at ……
Recommendations and Alternatives to Coat Hangers in Carry-On Luggage
The first question to ask yourself is why you need to travel with hangers in your carry-on.  From my research and experience, packing hangers in your carry-on for short trips is overpacking.
If you are off to a hotel, they'll provide all the hangers you need, and more available just for the asking. It goes without saying, if staying with family or friends most likely they will have hangers available for you to use.
Hangers in Carry-On could get caught or snagged on clothing, possibly damaging your clothes. If your bag happens to be the one they want to open, rummaging through the bag will most likely entangle the hangers in clothing.
Recommendation – A Garment Bag: If you are flying First Class or Business class then you can take garment bags as Carry-On with no problem.  You'll not find Economy class quite so accommodating though. Closet space is not available for economy class on most airlines.
Southwest Airlines for one does not have closets; so be aware. Depending on the airline you may need to stuff the garment bag in the overhead compartment. If it is a very large garment bag it may end up in checked baggage. Either way, it rather defeats the point if it is all scrunched up since your clothes will look and feel the same.
I would like to add here that airlines are becoming more and more restrictive on luggage and carry-on bags in particular. One might almost get the feeling they are using size and weight restrictions to make an extra buck to save their headline ticket prices going up. But airlines wouldn't be into shenanigans like that now would they?
So my advice is to be careful which you choose. Bigger is better for your clothes maybe, but it's not going to be loved by most airlines if it exceeds their carry on bag size limits.  And these are pretty strict. One good quality garment bag that does the job and is small on size is the Prottoni 40″ Carry On Garment Bag (Amazon Link), which is only 17.9 x 10 x 3.1 inches.  Well within most airlines size limits and it weighs in at only 2.2 lbs but your wedding dress won;t like it!
Alternatives: One comment I came across referred to Blow-up (inflatable hangers). I am not sure Blow-Up and Flying should really be in the same sentence – oh, ooops I just did that – I mean mentioned in the same topic.
Anyway, in my research, I found many alternatives to standard wired hangers. There are a few stores that sell travel coat hangers. You will find a wider variety of travel hangers on various websites and here is a multi-use alternative I've found useful (Amazon Link).  There are a wide variety, as well as some better quality ones if you are a frequent flyer.  Better quality should mean more durable, right?
There's a good selection of inflatable hangers and a wide variety of compact folding hangers designed specifically for Carry-On or checked baggage.  My advice is to avoid the problem of wired hangers being seen as potential hazards and avoid snagging your clothes or mangling your hands on them whilst trying to find those earbuds lurking somewhere in the bottom of your bag.
But, if you are resolute about traveling with your own hangers then perhaps the alternative style hangers are your best solution.
Why You Should be Concerned about Packing Wired Coat Hangers in my Hand Luggage
Look, it's simple really. The customs officers at the airport are in charge of security and this applies all over the world.  In the US, sensitivities after 9-11, have brought a paranoia about an attack and the TSA is there to minimize that risk. The reason the rules are all subject to the caveat that the final decision lies with the TSA operative is so that people who they think look a bit suspicious will undergo greater inspection.
There really is no need to carry wired hangers into the plane so why would you. This starts the process of questioning that leads to your luggage and maybe yourself being inspected much more closely than is really necessary. We know our readers would never be a risk to others but the customs officers are necessarily suspicious or everyone's safety is compromised. There are a lot of nutters out there and they don't all look like nutters necessarily.
Do yourself a favor and avoid anything that is going to make anyone think you are one of those nutters – leave you metal hangers at home no matter what anyone else tells you.  You know it makes sense!
Incidentally, if you are a US citizen, there is a pretty good way to help you on your way more easily at customs which is the Trusted Traveler Program.
This is a program where you can be verified and pre-registered before flying and you should pay particular attention to Global Entry as it contains the benefits of TSA-Pre and more.
Do You Want to Get Through TSA Checkpoints Faster, Keep Shoes on & Leave Liquids and Laptops in Luggage?
A TSA-Pre membership gives you this and more and hangers may NOT be a reason for concern to TSA but you'll need to be an American Citizen and go through the procedures some time before flying.
TSA-PreCheck (aka TSA-Pre, TSA PRECHK): If you are a frequent or occasional flyer, TSA-Pre will save you time and hassle at TSA Checkpoints. An $85 fee provides a 5-year membership to U.S. Citizens and foreign citizen who meet specific requirements. With a TSA-Pre membership, you are provided a Known Traveler Number (KTN). Provide your KTN to the airlines when purchasing an airline ticket. TSA-Pre in one way or another is printed on your boarding pass and also embedded in the barcode. This permits the pre-approved travelers to enter the shorter and faster TSA-Pre checkpoint lines. TSA-Pre allows you to leave your shoes on; no need removing liquids, laptops, and other electronic devices, etc… from luggage. I have provided a couple of my recent boarding passes as examples.

TSA-Pre does have a few quirks though. I have witnessed a TSA-Pre member asked to remove his shoes due to excessive metal in his shoes. If your kids take a backpack full of electronics then TSA may open the backpack and take a look. They may even X-ray some or all of the electronics.
As a frequent flyer, I have been a TSA-Pre member for almost a year. With TSA-pre, I no longer need to be at the airport three hours before my flight because I have the benefit of the shorter TSA-Pre lines; that alone makes the TSA-Pre well worth the price. Simply apply online and schedule a background/fingerprint interview at any of the 380 plus enrollment centers across the United States.
For most applicants, the driver's license and/or passport is enough to apply online and take to the interview, however, if recently married, you have changed your name, etc., then I recommend you check exactly what TSA-Pre documents are required.
Final Thoughts
I'll leave you with this final thought. Don't get hung up on hangers in luggage.
On your next trip, wear that wrinkled shirt or blouse and faded or torn jeans. You will hardly be noticed and most likely blend in with the crowd. As David Bowie once remarked it's just F…F..F..Fashion
Beep-Beep Yeah!
We want to provide you with the best, most useful content. It would really help if you could Rate this Article:[yasr_visitor_votes size="medium"]